Our curious, passionate students are actively engaged in everything they pursue including extracurricular activities. And with more than 250 students organizations across campus, there are plenty of ways students can get involved, make new friends, and build connections.
Here are some of the cultural activities, events, and organizations that are popular among international students at Truman State University.
---
Events
International Dinner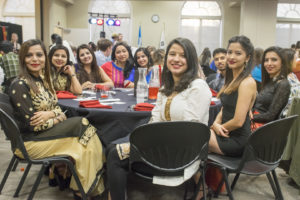 Each November, the International Club, in cooperation with the Center for International Students, sponsors the annual International Dinner. The International Dinner began more than 50 years ago, and over the years, it has become a highlight of the fall semester. Members of the International Club and other international and American students prepare and serve dishes from many different countries and cultures. The evening culminates in entertainment from around the world.
International Week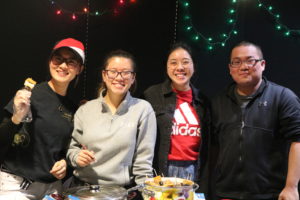 International Week is an annual celebration of cultural diversity sponsored by the Center for International Students at Truman held in the spring semester. This exciting and educational week of cultural events is planned and coordinated by the Center for International Students. International Week seeks to celebrate diversity and enhance the cultural environment of Truman State University while providing leadership and organizational experience to the student committee members.
Organizations
International Club
Membership to the International Club is open to all students interested in promoting international activities and awareness of the international presence on campus. The International Club sponsors trips and activities for its members and other students.
African Students Association
The ASA acts as a vessel of reference to inquiring minds interested in African issues and topics and also serves as a source of camaraderie for African students at Truman.
Namaste Nepal
This organization of Nepalese students organizes events like Himalayan night and other events to celebrate festivals of Nepal. Membership is open to all Truman students, faculty, and staff members.
Society for Sino-American Studies
The Society for Sino-American Studies explores Chinese culture and Asian cultures while promoting awareness on campus through fun and educational events. Events include the annual Mid-Autumn (Moon) Festival, Chinese New Year, weekly Chinese Language Tables and various social activities. Weekly meetings allow members to share their personal cultural experiences and discuss current issues relating to Asia and Asia-U.S relations.
Vietnamese Student Association
VSA promotes Vietnamese culture via independent event-planning as well as collaboration with other cultural organizations. The organization assists Vietnamese students on campus with their adjustment to American lifestyles.
Japanese Language Exchange Group
JLEG focuses on the Japanese culture and language exchange. This organization is open to all Truman students and hosts different authentic Japanese food fundraisers and Japanese cultural events.
More Student Clubs & Organizations
Get involved in a specific community, one that you enjoy! Don't join organizations just for the attention or recognition—join something that will help you grow into a better person and be involved in this lovely community.